There's nothing more inspiring than
shaping reality into the future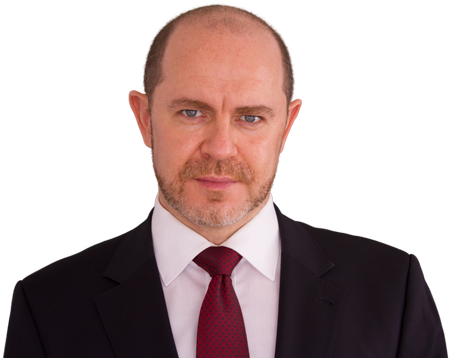 Strategist by vocation
Entrepreneur by spirit
Management consultants by trade
Economist and manager by education
Business developer according to the job description
For as long as I can remember, I always liked to solve riddles and puzzles, find answers to questions and organize friends for all kinds of exciting activities. If the first two passions at first found application mainly only in studies, the latter helped me, while still being a student, to start several businesses.
Soon after graduation, I learned about the existence of management consulting. It was like a revelation from above. People, mostly young, use their curiosity and insight to help build a business and they also get paid for it?! Wow! I fell in love at first sight.
From my experience as an entrepreneur, I had learned what it means to start and develop a business and how difficult it is, to manage it effectively. I also saw how many entrepreneurs and executives with great difficulty adapted to the market, to a new concept that suddenly came across all their life experience and went against the baggage of their knowledge. How difficult it was for them to replace familiar management tools with new ones, often incomprehensible and felt alien, despite the long explanations and detailed presentations.
Obviously, business in the Russian-speaking area has changed since then. And I like the way it has been transformed. Impudent "pushing" sales, spam, grumpy customer support are becoming less and less common, and business increasingly focuses its effort on creating the best products and humane service. And business management has also changed, the requirements for quality management and accuracy of decisions have increased.
I have more than before to offer companies in an ever-changing business environment. Fluent English and good German allow me to use modern approaches from leading universities and business schools. For high quality solutions, I am constantly searching, studying, analyzing, and applying the latest achievements in economics, finance, management, etc. My practice of adapting and applying advanced technologies in the post-Soviet area allows my clients surely to maintain leading positions in business management. You can be sure to get the best practices available on this globe.
If you're looking for someone who can think up or hook in your "big ideas" (and small ones) and who can truly contribute to their realization, while effectively collaborating with your team (or becoming part of it for a while), then we might make a good match. I would be happy to discuss how my experience can contribute to the further development of your success.
Looking Back
Most of my life I have been engaged in management consulting as an internal or traditional (external) consultant. During my long practice and dozens of consulting projects, I have been able to help make complex decisions and improve management in companies and diversified groups from Moscow, cities of Russia, Belarus, Kazakhstan, Ukraine and EU countries: Great Britain, Germany, the Baltic States, Bosnia and Herzegovina, Bulgaria. The details you may read in the "Copy-and-Paste Bio"
In recent years, my efforts have focused more on strategic objectives, but my competencies in management consulting are somewhat broader. This multifaceted experience allows me to solve diversified tasks, understand and take into account the goals and strategy of your business (ideally, helping to start with it accurately and professionally) when performing consulting services.
The outcomes are the best evidences of a management consultant's job. Read one (or more) examples and make sure your ambitious goals are in good hands!
Always on the Forefront
"The world is changing faster with each upcoming year" and "It's very important to feel the speed with which the world is changing" are rather beaten clichés, but clichés tend to be true. Constantly learning and re-educating myself, looking for new research and scientific publications, as well as relentlessly putting them into practice to be confident in their performance, allows me to be confident in the benefits that I provide to my clients.
You can rely on a brand. Still, when it comes to the outcomes you expect, the most crucial will be the particular person, who delivers them and ensures quality.
Can he solve my problem? Can he solve it properly?
Perhaps you admit that these are the most important questions when choosing a management consultant.
The combination of extensive and cutting-edge knowledge, confident professional skills and solid, multifaceted experience in an application of leading management techniques gives you an extensive spectrum of opportunities to solve your ambitious tasks in a high-quality and timely manner.
Learn more about my proficiency as a management consultant.
17 Random Things
A quick way to look at who I am at a glance
The path we have traveled made us who we are today. While we have many things ahead and years to come, sometimes looking back is useful to remind ourselves where we started and why we are on this path. If you are interested in my story, it's ready for you to read.
Copy-and-Paste Bio
Sometimes I am asked to send my short biography for some (still puzzling me) reason. A more formal presentation of my life path is available by the link.